The father of Ana Clara Benevides, the fan who died at the Taylor Swift concert, recently gave a touching interview.
Ana's father said that she "ran away for a dream and came back dead".
"I lost my only daughter, a happy and intelligent girl. She was about to graduate in Psychology next April."
"I want it to be revealed if they were actually forbidden to bring water, if there was negligence in providing help."
Ana's grieving father continued: "I know the singer was handing out water to her fans and this is absurd for an event of this size. Nothing will bring my daughter back, but I hope that if negligence is confirmed, someone will be punished so that this does not happen to anyone."
The "Love Story" singer was performing in Rio de Janeiro when Ana died.
While the cause of death has not been released, media reported that fans were not allowed to bring water into the stadium despite the high temperatures.
Taylor's fan was taken to hospital but sadly died an hour later.
In her statement following news of the fan's death, Swift wrote: "I can't believe I'm writing these words but it is with shattered heart that I say we lost a fan earlier tonight before my show. I can't even tell you how devastated I am by this.
"There's very little information I have other than the fact that she was so incredibly beautiful and far too young."
She continued: "I'm not going to be able to speak about this from stage because I feel overwhelmed by grief when I even try to talk about it. I want to say now I feel this loss deeply and my broken heart goes out to her family and friends.
"This is the last thing I ever thought would happen when we decided to bring this tour to Brazil."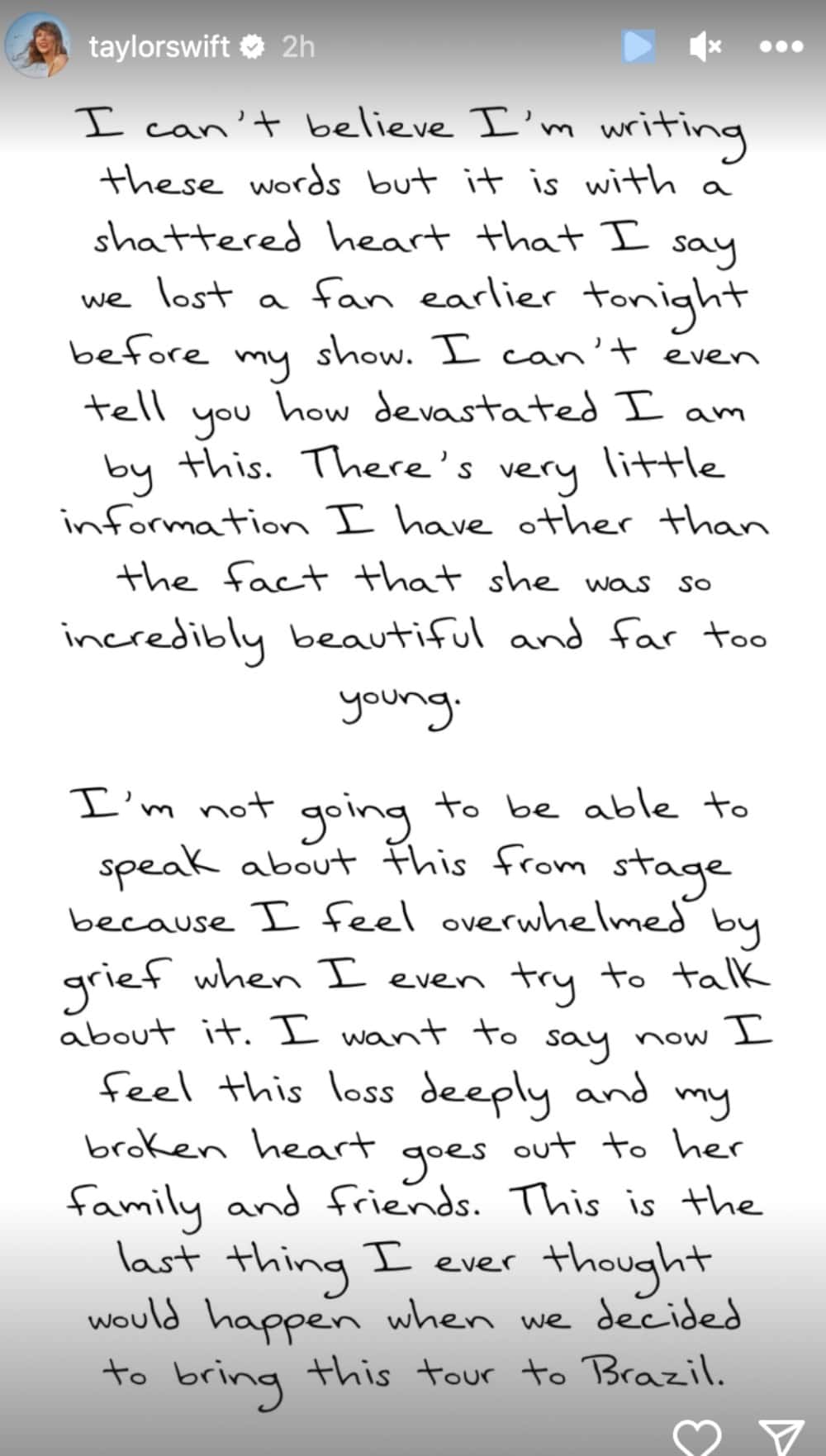 Swift paused her show to make sure fans received water. "There's people that need water right here, maybe 30, 35, 40 feet back," she said to the crew during the 'Evermore' segment of her show.
"So whoever is in charge of giving them that, just make sure that happens. Can I get a signal that you know where they are?"
In one clip the audience can be heard shouting "water, water, water" after temperatures soared inside.