Pasi u dha fund thashethemeve se Kiara Tito është në pritje të ëmbël, Luiz Ejlli bëri të kundërtën duke trazuar sërish ujërat.
Përmes një postimi të dyshimtë në Instagram, Luizi la të nënkuptuar se së shpejti do të bëhen prindër.
Në një foto – ku shfaqet me Kiarën dhe një foshnjë – Luizi shkruan: "Sa shpejt kalojnë vitet…Më duket sikur kaluan vetëm 4 muaj nga Big Brother dhe ja ku jemi sot."
Në vijim, ai shton: "Po bëj prova për Story që do bëjmë pas ca kohësh…" shoqëruar me një emoji që shkel syrin.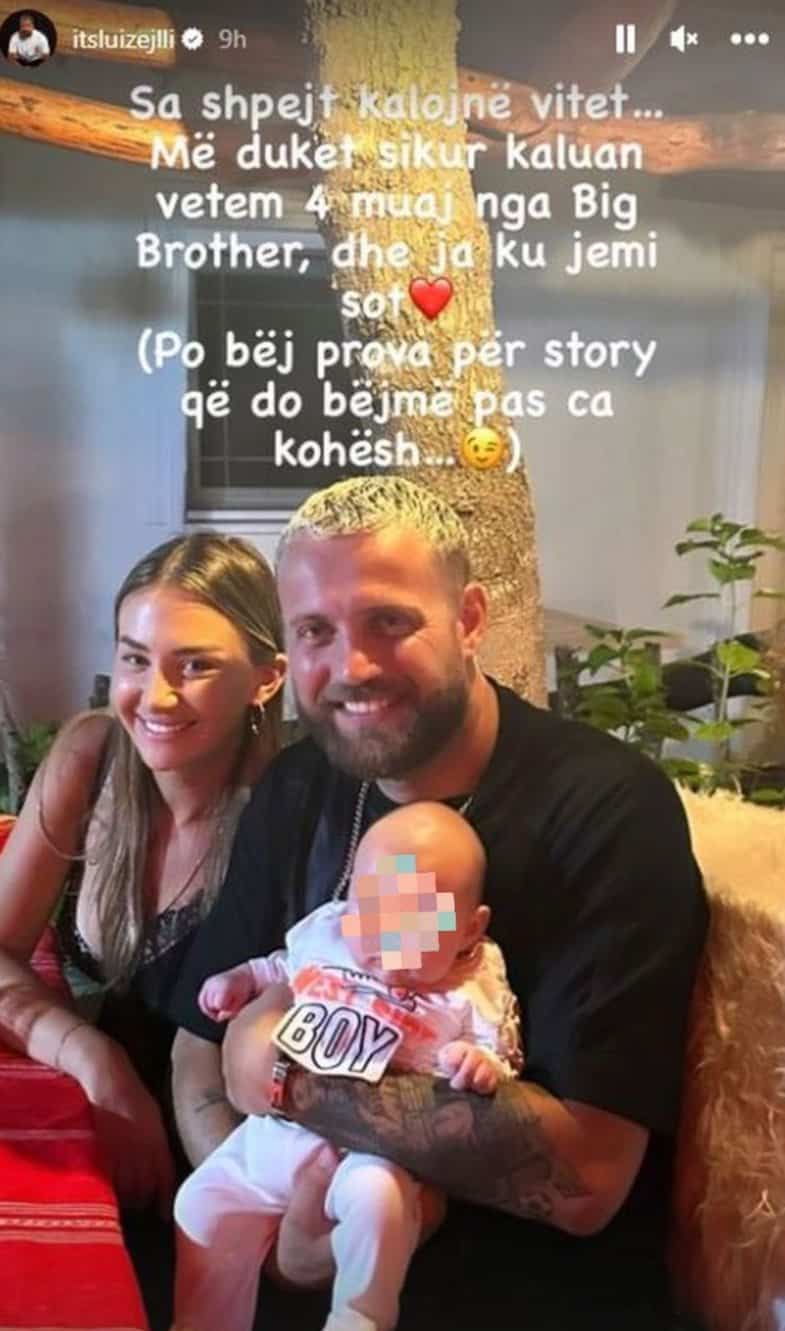 Gjatë një komunikimi në Instagram Live me ndjekësit e tij disa ditë më parë, Luizi u pyet nëse Kiara ishte shtatzënë.
"Këtu nuk kemi test shtatzënie, por nuk ka shfaqur shenja, kështu të vjella e gjëra. Kiara nuk është shtatzënë," tha ai.
Postimi i fundit lë vend për interpretime të ndryshme. Sidoqoftë, një fëmijë është në planet e çiftit. a
In August 2019, Erik Lloshi ended his bachelorhood. He married his partner, Romina in a ceremony which looked very traditional.
Recently, the singer gave an interview to RTV Ora where he said that he feels quite happy with his wife, and even revealed that he wants to become a father soon.
"I feel very good, I am very happy, I believe that the time has come to become a father, very soon, but we still do not have anything concrete. I hope that with the help of God above and with my help I believe that we will achieve "– he said.
He has spoken before about his marriage and plans to become a father, which will apparently be delayed a bit.
The singer was invited to the show "Glamor", where he showed that he is very happy with the wife he has in his arms and that Romina is very patient with him. "I am very happy. I am very happy with the wife I have in my arms. He is a person who tolerates me a lot, endures the part of my character that I am very lunatic. Not crazy, but my humor moves within the hour, that's how we artists are, that's how I specify myself. "I fluctuate very quickly from the emotional part.
a