---
A family in the neighborhood "Deremhallë" in the Municipality of Gjilan was evacuated from their home on Saturday night, after the risk of heavy rainfall in this city.
Rainfall on Sunday, July 18, has caused some trouble in the municipality including roadblocks and damage to private homes from water seeping into basements.
According to the mayor of Gjilan, Lutfi Haziri, the municipality has intervened in 25 different cases out of 52 calls received by municipal emergency institutions.
He called on citizens to avoid going out on the streets in the afternoon.
"The expectation is that today, tomorrow and Tuesday, there will be more intensity of heavy rains in the Municipality of Gjilan", he said.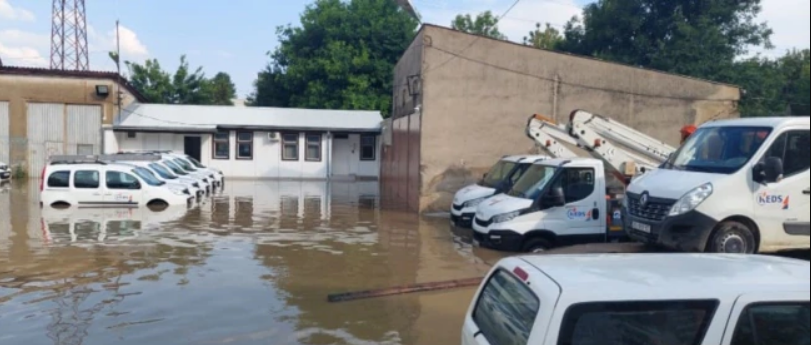 According to Haziri, so far the damages from these rains are not considered to be large until they still do not have a rough monetary figure for these damages.
The Municipality of Skenderaj also had heavy rains and hail on Sunday.
The Director of Public Services in this municipality, Gëzim Ejupi, told Radio Free Europe that greater damage has been caused to the agricultural sector.
"There has been considerable damage in Skenderaj quite a lot from the hail, in agricultural crops, as well as in households and some roofs of houses have collapsed," he said.
Meanwhile, about 200 people are estimated to have died from the floods that have occurred in recent days in several European countries including Germany, Belgium, the Netherlands, Luxembourg, Switzerland, Austria and the Czech Republic.
Are other rains expected in Kosovo?
Although many countries in Europe have seen very heavy rain these days, so far the Hydrometeorological Institute and meteorologists have not predicted that the bad weather in Kosovo will continue for many days.
On Friday (July 16), the Institute had forecast rainy weather from July 17 to 19.
However, according to this announcement, no outflow of rivers from the beds is foreseen, which is the main cause of floods and severe damage as a result of rainfall.
"In the main rivers, according to the network of hydrometric stations in Kosovo, it is not expected to have significant fluctuations of levels and water inflows, therefore there will be no risk of river floods," said in the announcement.