---
16.07.2021 – 18:09
He is without a contract, but a European champion. A life with black and white memories and almost none faded. Born in 1984, Giorgio Chiellini made his Serie A debut on 12 September 2004 with the Fiorentina shirt against Roma at the Olimpico.
The long adventure with Juventus began the following year, after the end of the co-ownership with the Tuscans. Physical defender (187 cm x 85 kg) and master in marking and reading the opponent's game, he is an additional weapon in inactive balls.
On 17 November 2004, for the first time in the Italian national team as a substitute, in the friendly against Finland. There are already 112 appearances for the Azzurri and 8 goals.
Just to put the captain's armband on his arm and raise the Henry Delaunay Cup to the sky (this is the official name of the continental trophy, in honor of UEFA's first secretary general and promoter of the debut edition of competition).
MISSING BASKETBALL PLAYER – His sports idols are some legends, Paolo Maldini in football and Kobe Bryant in basketball. Because Chiellini is also a great basketball fan.
As he said in a November 2014 interview for the official channels of the national team, as a child he became very passionate about the basket, thanks to a classmate. He then enrolled in a football school with his brother, dealing with the ball.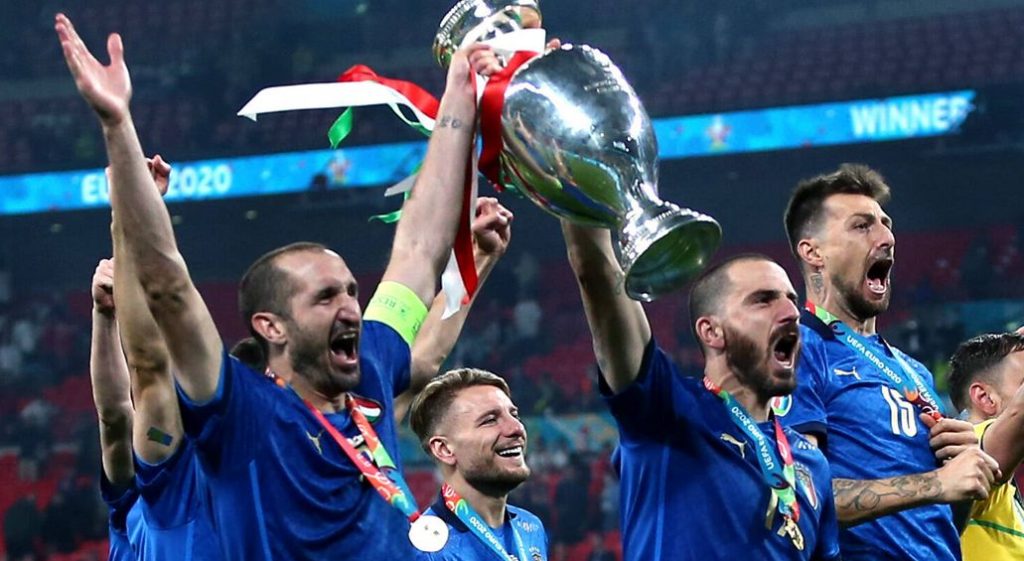 DIPLOMA PROTECTOR – Calculator in hand and numbers in blood. The Juventus defender attended the Federigo Enriques Scientific High School in Livorno, later enrolled at the University of Turin. Receiving a first degree in Economics and Commerce (with a grade of 109 out of 110), in 2017 he specialized in Business Administration.
"Studying has helped me in everything, in life and also in sports, – he explained in an interview for "FifPro". – "When I was alone, or when I was engaged, I trained in the morning, went home, rested and then studied for a few hours in the afternoon."
FATHER OF TWO GIRLS – Born in Pisa, Chiellini grew up with his family in Livorno. He has a sister and two brothers, including his twin, Claudio (sports manager and his agent). His wife is Carolina Bonistalli, whom he married in 2014.
He has two daughters, Nina and Olivia. In January 2019, the blue captain was a guest, with Leonardo Bonucci and Andrea Barzagli, of Maria De Filippi in "C'è posta per te".
In 2020, "Io, Giorgio" was published, the autobiography in which the defender tells his story (with the proceeds donated to the non-profit organization "Insuperabili", which promotes football among people with disabilities, for which he is a donor).
GORILLA – After his triumph at Wembley, the defender posted a beautiful Superquark-style video on Twitter, in which he is compared to a gorilla, an animal that has characterized his iconic celebrations with chest punches for years.
From "licking" for Jordi Alba to pulling Saka from the shirt to the final (which sparked a lot of controversy among English fans), going through the embrace of teammates and superstitious rituals, the blue captain has become a cult player in the European Championship, winning the sympathy of many players, not just Juventus.