---
10.06.2021 – 16:53
This year's European has been in history since it started. First, for the first time since the creation of the competition in 1960, it was never postponed.
It took a virus like Covid for the European Championship not to take place in a couple of years. But the pandemic brought other innovations. For example, for the first time the participating teams have gathered 26 players, for the first time in a European 5 substitutions will be made and if the match goes to extra, 6 such.
VAR will also be used for the first time. It was applied for the first time in the World Cup in Russia, while for the European it happens for the first time. VAR is expected to be one of the protagonists of the competition.
Another innovation of this European is the distribution in 11 different countries, starting from St. Petersburg of Russia and Baku of Azerbaijan, to continue in Rome, Seville and others, and ending in the assembly of London, where it will be played even the final.
Thousands of km described by representatives on dedicated flights. There are three national teams that will cover great distances. Switzerland will travel a full 10 thousand km, as it will play its 3 matches in Rome and Baku, 2 in the capital of Azerbaijan.
Then comes Poland with about 9500 km, between Seville and St. Petersburg. Belgium will also travel many kilometers in the air, more precisely 9150 km, between Brussels, Copenhagen and St. Petersburg. Italy, Denmark, the Netherlands, England, Spain and Germany will not travel after playing all 3 group matches at home.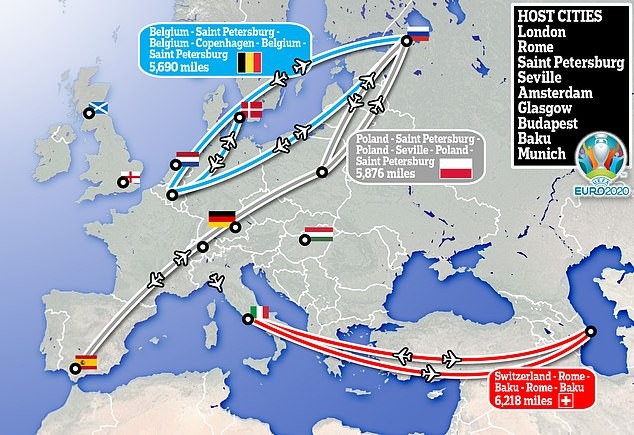 The other innovation is the number of fans. For the first time the number will be limited. However, 1-20 thousand fans will be present in the stadium, depending on the permission given by each state. Only Hungary has allowed 100% and in the June 15 challenge with Portugal there will be 61 thousand spectators.