---
10.06.2021 – 15:37
The Independence Day of the country that symbolizes democracy and the aspirations of peoples for freedom, July 4 in the United States of America, will be special. As a symbol of bilateral relations, allied France will send another statue of liberty to New York, on this meaningful date./Konica.al
The new bronze statue is one-sixteenth the size of the world-famous one that illuminates Liberty Island.
On Monday, during a special ceremony, the statue was unveiled by the National Museum of Arts and Crafts (CNAM) in central Paris, where it has been installed since 2011.
The statue will be erected at Ellis IslandRealized in 2009, over 450 kilograms and 10 meters long, the work is a copy of the original model of the 1878 statue, preserved by CNAM.
"The statue symbolizes freedom and light, all over the world," said Olivier Faron, administrator at CNAM.
"We want to convey a very simple message: our friendship with the United States is very important, especially at this time. "We must preserve and protect this friendship."
How was the giant statue born?
In 1886 a giant female statue, dubbed the "Statue of Liberty," would be France's gift to the United States. Soon after, the statue would become one of the symbols of the United States and the entire West.
The Statue of Liberty, as a symbol of the alliance between France and the United States during the American Revolution, from 1775 to 1783, is the work of French sculptor Frederick Bartholdi. The French even, at the time, sacrificed money to build this giant idea.
Its history would begin with the first model in 1870, this one on a smaller scale, as the first statue currently found in the Garden of Luxembourg, in Paris. The second copy, also on a small scale, is in the northeastern Brazilian city of Maceio.
On June 30, 1878, the head of the statue was exhibited at an exhibition organized in the garden of the Torocadero Palace in Paris. Other parts of it were shown during an exhibition on the "Champs de Mars".
On June 17, 1886, the statue arrived in New York Harbor.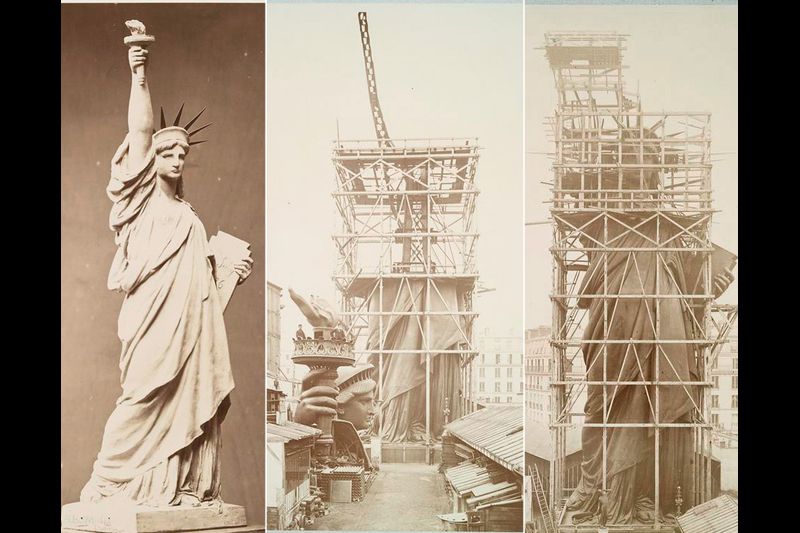 In 1956, the US Congress passed a law renaming the wooden island "Liberty Island".
With wood from the island's trees, it was built and molded in the 19th century, from concrete and granite in the shape of a confined star to protect New York during the War of 1812.
The statue, was in storage, box, within eleven months, waiting for their pedestal. In the United States, the Minister of France, Levy Morton, marked the first nail in the construction of the statue. The long-awaited construction and installation began.
Finally, on October 28, 1886, it was also marked by the solemn inauguration, by the president of Grover Cleveland. In 1924, the statue was declared a national monument.
In 1984, the statue was added to the UNESCO World Heritage List. While in 2007, the Statue of Liberty was ranked among the 20 finalists in the competition "Seven New Wonders of the World.
Millions of tourists a year, from all over the world, are admiring and curious visitors of the magnificent symbol of freedom./Konica.al