---
from Aurenc Bebja*, France – 5 June 2021
"La Vie heureuse" published, on April 15, 1912, on page n ° 5, an article about the special relationship of Mrs. Edith Durham with Albania and Albanians, which, Aurenc Bebja, through the Blog "Dars (Klos), Mat – Albania", Has brought it to the Albanian public:
Mrs. Edith Durham in Albania
A heroine of charity

Among the thousands of touching and genius ways of being charitable that women have discovered, here is one that, moreover, does not go without courage. We know what is the miserable life of the Albanians, on whom, at this very moment, the issue of the East weighs heavily. You should also know that for eleven years a woman, Mrs. Durham, has been their Providence.
It was in Podgorica at the beginning of last August that I met Mrs. Edith Durham. I met him in a small town on the border with Montenegro, where mountain Albanians were sheltered, persecuted by the Turks. One can not imagine the poverty in which these unfortunate people found themselves, whose houses had been burned by the bodies of Turgut Pasha and who had only for shelter the caves dug on the steep shores of Moraca. In these infected shrubs, men, women, and children, mixed with a few cattle, had waited for five and eight months for their pain to end. I visited the refugees with Mrs. Durham. These poor people came to meet her, kissed her hands, called her their queen, asked her for help and protection against their enemies. Every day, under 50-degree heat, along the cobblestone paths, she wandered into their desperate camp, handing out some money she had received for them from England. She had bought fabrics (garments) which she divided into pieces of three meters; for each part, she added two needles and thread, because she had rare and touching experience of these things.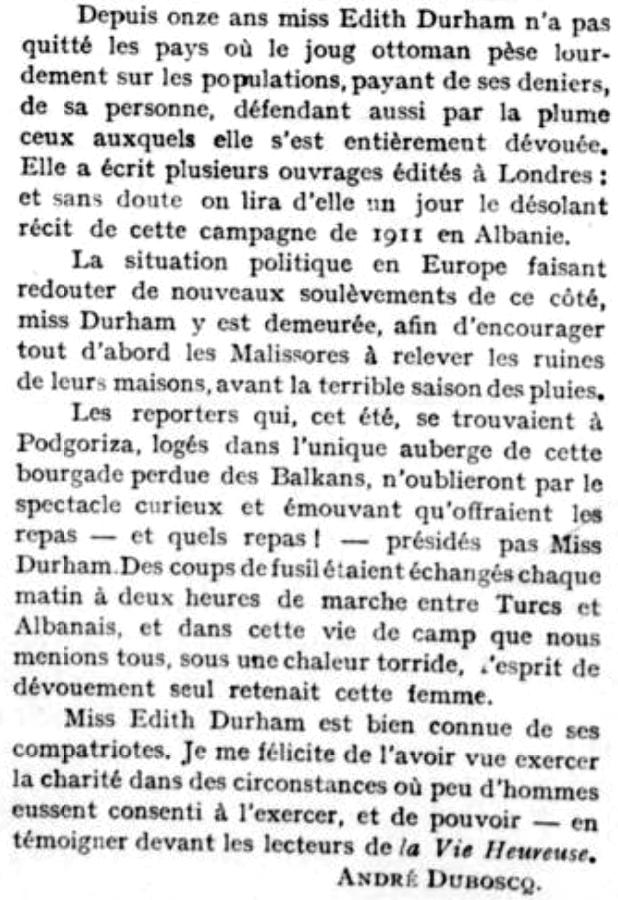 For eleven years Mrs. Edith Durham has not left the places where the Ottoman yoke weighs heavily on the populations, paying with her money, with her person, also protecting with feathers those to whom she is fully devoted. She has written several works published in London: and without a doubt we will one day read the disturbing history of this 1911 campaign in Albania.
The political situation in Europe raising fears of new uprisings on this side, Ms. Durham remained there, in order to encourage first and foremost the mountaineers to erect the ruins of their homes, before the terrible rainy season.
Journalists who were in Podgorica this summer, staying in the only hotel (hostel) in this lost Balkan city, will not forget the curious and touching spectacle offered by the meals – and what meals! – chaired by Mrs. Durham. Rifle shooting was exchanged every morning in a two-hour march between Turks and Albanians, and in this camp life we ​​all did, under a scorching heat, only the spirit of devotion kept this woman alive.
Mrs. Edith Durham is known by her compatriots. I commend myself for seeing her charity in circumstances in which few men would have agreed to practice it and be able to testify before the readers of La Vie Heureuse.
André Duboscq
* (By Aurenc Bebja, France)
(Blog © Dars (Klos), Mat – Albania),
https://www.darsiani.com/la-gazette/gazeta-franceze-1912-marredhenia-speciale-e-zonjes-edith-durham-me-shqiperine-dhe-shqiptaret/